5 Fantastic New Year's Eve Proposal Ideas
Holiday season is a time of sharing immense happiness, joy and laughter with your near and dear ones. Many even consider this as the most romantic time of the year. And why not? The sparkling lights, cheery music and flowing wine definitely provide the perfect backdrop for posing the 'be mine?' question to your special one. After all, New Year's is all about new beginnings. Planning to pop the question this festive season, but aren't sure how? Worry not! Here are five wonderful ideas that will make your proposal even more magical and memorable.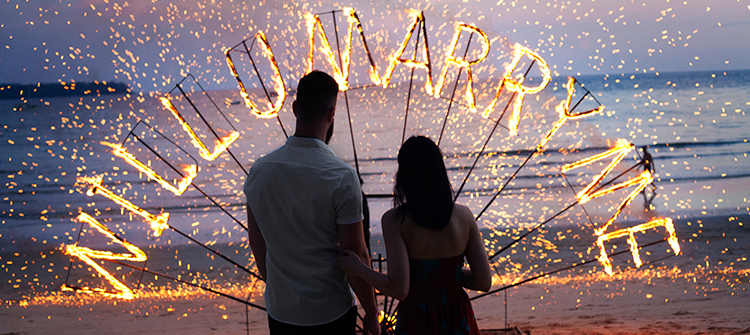 The Midnight Proposal:

The most romantic way to propose on New Year's is also the simplest of all. As the world around you starts the countdown, bend on your knee, express your love and ask her to be yours forever. She will definitely be surprised and once she says a yes, you get to celebrate it with the first kiss of the New Year. Plus, she will cherish this special moment for years and you will never forget your proposal-versary!

A Party Proposal:

The best way to plan a proposal and not get her suspicious is by throwing a party. Invite all your loved ones home for a party, and let them know of the surprise beforehand. This will enable them to stay in the act and help you pull off the surprise without a glitch. As the clock strikes midnight, go down on your knee and ask her to marry you.

An Intimate Party for Two:

Nothing is better than ringing in the New Year with your lady love. Decorate your house and plan a special dinner with all your partner's favorite dishes. After a scrumptious meal, look for the perfect moment and ask her to spend the rest of her years with you. As soon as she says a yes, get the champagne and dessert out and celebrate your special moment.

Reviewing the Past Year:

Giving her a New Year's gift which has sentimental value is a great idea. Make a memory album with all the moments that you have spent together in the past year. Add different pictures, event tickets and even the notes, emails and texts you have shared to give it a special touch. On the last page, write 'Will you marry me?'. This one will surely have her jumping with joy.

A Holiday Getaway:

If you are planning a holiday together this festive season, then it is undoubtedly the best time to propose. Make this vacation more special by going to her favorite destination. Find out the best restaurants there or plan a special meal on your hotel room's balcony. As the clock strikes midnight and there are fireworks all over, go down on your knee and ask her to marry you. This will surely have her gushing with happiness and make your special moment the most memorable one.
We are sure that these cute and creative proposal ideas combined with the perfect setting and timing will have the love of your life shouting out a huge yes! This moment will undeniably make her feel like the luckiest woman on earth and be etched in her memory for years to come.
---
---