A Guide to Different Types of Jewelry Metals
In the world of fine jewelry, it is the gemstone and the design that usually receive the maximum attention, while the metal is often overlooked. However, the metal that you opt for has a significant effect on the look, price and durability of a jewelry piece.
Though, there are several metals that are used for crafting jewelry, gold still remains to be the most preferred jewelry metal choice. In this post, we will talk about the three different types of gold – yellow, rose and white gold, and their characteristics.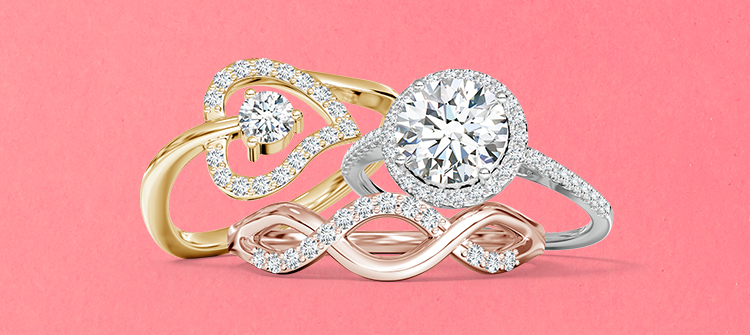 Yellow Gold:
Yellow gold is the most popular gold hue since the dawn of time. The natural glow and warmth of this metal captures the heart like no other. Plus, raw gold has a yellowish tint to it, which makes yellow gold's color closest to the natural one. As gold is very soft and malleable in nature, it is mixed with other metals like copper or zinc to enhance its strength and color.
Even today, the natural beauty of yellow gold combined with its classic appeal, makes it a highly popular jewelry metal choice. If you wish to add a vintage touch to your look, then yellow gold adornments are your best bet.
Rose gold:
In the recent years, rose gold has gained a lot of popularity as a metal option for jewelry. This widely adored gold type has a delightful hue that is derived by mixing gold and copper. It increases the durability of this metal and lends it a striking rosy pink color.
Due to this beautiful pinkish hue, rose gold is often considered as a romantic metal. If you are an ardent fan of romance and wish to add a dreamy appeal to your look, then rose gold jewelry is the perfect choice for you.
White gold:
White gold is one of the most sought-after gold alloys in the world. It is an extremely affordable and fashionable white metal option. This lustrous metal is created by mixing gold with palladium and silver or zinc and nickel. This gives white gold a stunning silvery tone and remarkable durability.
Additionally, white gold is also tarnish free which makes it a desirable alternative to other white metals like silver, platinum etc. White gold adornments are apt accessories for all those who prefer a contemporary and stylish look.
Whether a date night or a much-awaited evening soiree, eye-catching gold jewelry is just what you need to amp up your look.
Do you wish to give your jewelry box a sparkling make-over? Then visit Pure Ignis and check out our huge assortment of lab-grown diamond jewelry crafted in gold.
---
---