What Kind Of Engagement Ring Is Right For Her?
Planning to propose to the love of your life? The jittery feeling is probably building up already and the next big question on your mind is – which is the most beautiful engagement ring for her. It is true that diamond rings are the most coveted choice for women around the globe, and the choices are plenty. How about making this significant moment of your life even more memorable and special with a lab-grown diamond engagement ring? Since lab diamonds need no mining activity and are grown in controlled lab settings, they make the perfect alternative to natural diamonds. Plus, a lab-created diamond is also eco-friendly and 100% conflict free.
We have an exciting collection of lab-grown diamond rings to suit every personality. Read on to find out which could be the ideal lab diamond ring for her and make this journey a piece of cake.
The Classic Solitaire
Symbolic of true love, a diamond solitaire is for the woman who likes to follow the traditions and cherish them during her most precious moments. A lab diamond solitaire on a simple or a tapered shank is a classic choice. However, a plain or a diamond-studded bypass or a split shank style will add a bit of flair to this solitaire setting.
The Opulent Halo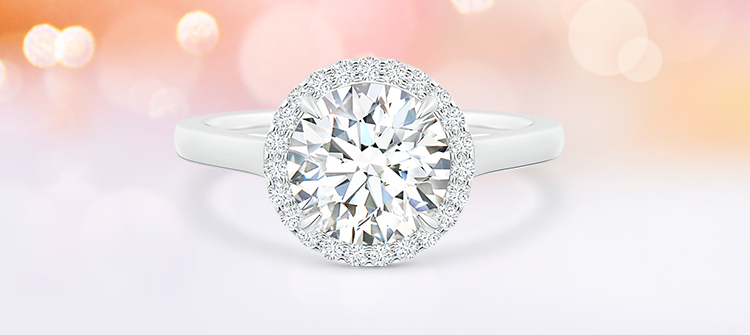 A scintillating halo of several diamonds around the center stone illuminates its brilliance and elevates the beauty of the engagement ring. To double the allure of a halo ring, there are double halo settings as well. Halo and double halo rings are dramatically exquisite as they look magnificent. Unmistakably, the extravagant fiancée will love a halo ring and flaunt it wherever she goes.
Three Stone Setting
You are probably going to plan a romantic proposal for her if she is someone who treasures every memory and keepsake. Place a lab-grown three-stone diamond ring on her hand and you will turn your big day into the best day of your life. The ring will represent the past, present and future of your loving relationship with her and hold emotional value for her. Our three stone rings come in elegant designs to luxurious halo settings – perfect for the sentimental would-be brides.
Explore her collection of jewelry and observe what she wears, you'll get the hints. You can also involve her friends or her sister to know more about her style preferences before making the purchase. If you have already discussed marriage, you could consider letting her choose her ring. After all, she is going to look at that dazzler for many years to come and wear it every day.
---
---