LAB DIAMONDS
Lab grown diamonds are cultivated within sophisticated laboratories with advance technological processes either under extreme temperature and pressure conditions or special deposition process that replicate the growth process of a natural diamond inside the earth's crust. The only difference being the time to achieve the same. Lab grown diamonds are also known as engineered diamonds, cultured diamonds and at times, also referred to as lab created diamonds. They are physically, optically and chemically identical to earth mined diamonds. All our lab grown diamonds are also conflict-free, which means they do not contribute to environmental or human exploitation.
Difference among Lab Created, Lab Grown and Simulated Diamonds
Lab grown diamonds are often confused with simulants and lab created diamonds. But there is a striking difference between the three. Lab created is a broad term used for all diamonds which have not originated from the Earth's core. Lab grown diamonds are physically, optically and chemically same as earth mined diamonds, except that they are grown in a controlled environment inside a lab, replicating the same process that occurs inside the Earth's crust.
Lab grown diamonds are grown over thin layers of natural diamond and layers of carbon are deposited through Advanced Technological Processes. They are so identical to earth mined diamonds that it's impossible for naked eyes to tell the difference. Only labs with the most sophisticated technologies like IGI and GIA can tell the difference.
On the other hand, simulants are diamond look-alikes and are made from Cubic Zirconia, also known as CZ. Moissanite is another simulant made of crystal carbide and has more fire than Cubic Zirconia. Both the simulants replicate the crystalline structure of diamonds but are chemically very different from pure diamonds. Though lab created, these simulants change their properties over time and may change color as well. Lab grown diamonds are pure carbon diamonds and they last as long as earth mined diamonds.
Comparison Chart
Properties
Chemical Composition
Crystalline structure
Dispersion
Density
Hardness
Clarity
Cut
Color
Refractive Index
Simulated
Moissanite
Sic
HEXAGONAL
0.104
3.21
9.25
VVS to VS
Very good to Good
D to J
2.65
Diamonds
Cubic Zirconia (CZ)
ZrO2
CUBIC
0.066
5.7
8.25
A to AAAA
Ideal to Very good
A to AAAA
2.42
Real
Earth-Mined Diamonds
C
CUBIC
0.044
3.52
10
IF to I2
Ideal to Very good
D to Z
2.42
Diamonds
Lab Grown Diamonds
C
CUBIC
0.044
3.52
10
IF to I2
Ideal to Very good
D to Z
2.42
Why Choose Lab Grown?
4Cs CHARACTERISTICS SAME AS EARTH-MINED DIAMONDS
4Cs CHARACTERISTICS SAME AS EARTH-MINED DIAMONDS
COLOR
Lesser the color, higher the grade. Even the slightest hint can make a dramatic difference in value. The ideal white diamond is absolutely colorless and receives D grade; the least valuable diamond is a noticeable yellow-brown and receives a Z grade.
CLARITY
Clarity grades assess the number, size, relief, and position of inclusions and blemishes. Diamonds are graded from "Included" to "Flawless" depending on how many inclusions are visible at 10X magnification.
CUT
Cut (proportions, symmetry, and polish) is a measure of how a diamond's facets interact with light. A well-cut stone reflects all the light back towards the viewer, while a poorly cut stone allows some light to escape from the back.
CARAT WEIGHT
A carat (ct.) term refers to the unit of weight measurement to weigh diamonds and other gemstones. Often this term is misunderstood with size of the stone but it is a diamond's weight not its size. A carat is equal to 0.2 grams.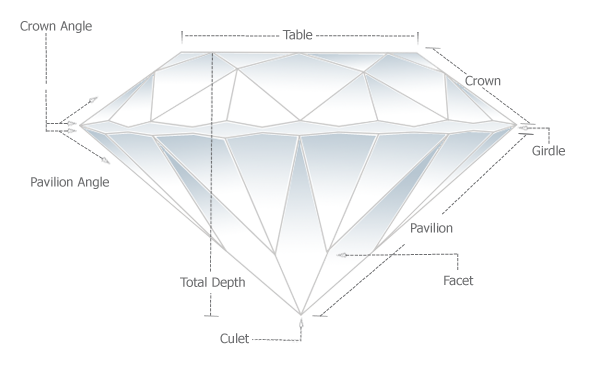 Diamond Color Chart

colorless
Pure ignis only retail diamonds in colorless and near colorless range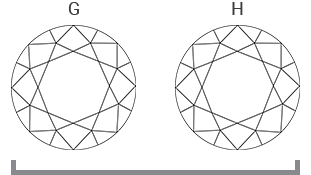 NEAR colorless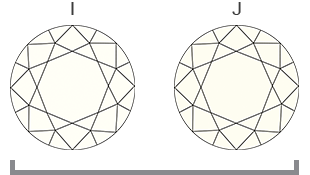 NEAR colorless
Slightly tinted
Faint
Yellow
Very light
Yellow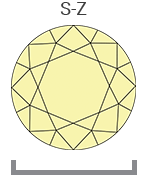 light
Yellow
Diamond clarity Chart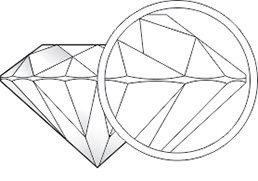 fl-if
flawless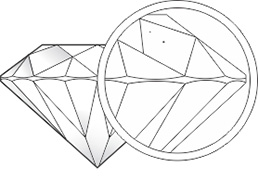 vvs1-vvs2
very very slightly included
vs1-vs2
very slightly included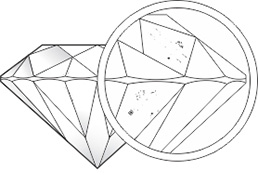 si1-si1
slightly included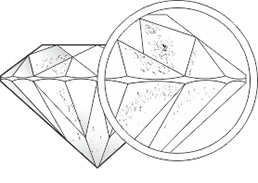 I1-I3
INCLUDED
Pure ignis does not offer diamonds in this category.
Brighter Side of Lab Grown Diamonds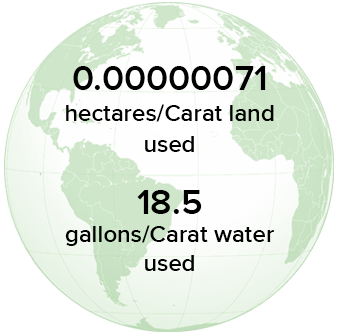 Lab Grown Diamonds
Earth-Mined Diamonds